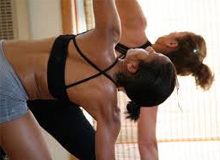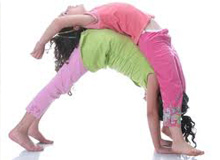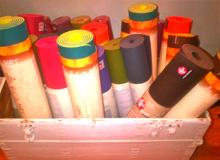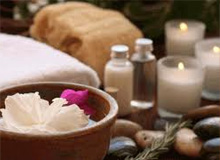 yoga
Level 1/Beginner Yoga
This class serves as an introduction to the principles of foundation, alignment, and breath. We introduce basic poses that flow together to build strength, increase flexibility and lung capacity, and additionally, reduce stress. All levels welcome.
Level 1/2 Yoga
Taught in the vinyasa flow style, this moderately-paced class offers dynamic movement with and between poses that generates internal warmth and helps the body open naturally. The fundamentals of basic poses are central to class instruction and emphasis is placed on safe alignment and breathing techniques, as well as the gradual development of flexibility, strength, and balance. This is the perfect class for students seeking a greater challenge than is offered in a beginner class, yet a lesser challenge than is offered in a mixed-level class.
Mixed level Yoga
This is an alignment-based Vinyasa class open to students of all levels. Breath and movement are synchronized to build heat, stimulate the nervous system, and revitalize the mind and body. Instructors offer modifications for beginners and options to challenge more advanced practitioners.
Vinyasa Flow (inspired by Shiva Rea's style of Prana Flow®) Yoga
Linking breath with motion, this is a mixed level class designed to inspire you. This challenging class moves beyond the fundamentals of breath, movement, and alignment and ultimately, takes your yoga practice to the next level. A mixed level class with a flowing aspect.
Level 2/3 Yoga
Transform your body and mind in this empowering Vinyasa class! This stimulating class incorporates traditional core-toning and strength-building movements into a powerful yoga practice intended to challenge your body in an inspirational way. This class is suited for students of all levels, yet a strong desire to work hard is encouraged. Empower yourself and achieve greater strength, alignment, and overall confidence in your yoga practice.
Yin/Yang Yoga (Level 1/2) Our Signature Class With Alicia
This class provides a balanced practice of both Yin and Yang styles of yoga. The Yin style of long-held passive poses opens the body to more flexibility and chi flow through the subtle channels while also engendering a more contemplative, non-reactive quality of mind. The practice of Yin Yoga is followed by the practice of Yang Yoga, a more active, dynamic style that strengthens and invigorates the body and mind. Each class will conclude with meditation. All levels welcome.
Pilates
Pilates is a body conditioning routine that helps increase flexibility and builds long, lean muscles as well as strength and endurance in the legs, abdominals, arms, hips, and back. This class places special emphasis on spinal and pelvic alignment, breathing to relieve stress and allow adequate oxygen flow to muscles. Additionally, students focus on developing a strong core or center (toning abdominals while strengthening the back) and improving coordination and balance. Pilates flexible system allows for different exercises to be modified in range of difficulty from beginning to advanced. Intensity can be increased over time as the body conditions and adapts to the exercises. No muscle group is under or over-trained. Pilates enhances core strength and brings increased reach, flexibility, sure-footedness and agility. All levels welcome.
Heated Yoga
Our Heated Yoga class is held in a heated room to promote a cleansing sweat and increase the body's pliability while moving through practice. The sequencing of this class incorporates core work to build heat within the body in addition to vinyasa flow, long holds, and deep stretches. Accessible to all levels willing to break a sweat and explore their edges. All levels welcome.
Pre-Natal Yoga
Offered in a 6-week session format, this class supports moms-to-be throughout their pregnancy using postures to strengthen and tone muscles used for labor and delivery. Breathing and relaxation techniques are used to establish a deeper connection with the mind, body, and baby. In addition to practices that increase energy and endurance, the class also fosters discussion. The 5th class of every session gives mom a chance to bring one support person along for a partner yoga class. Upon registering for the session, a permission note from your healthcare provider is required and should be brought to the 1st class. Appropriate for all stages of pregnancy and no prior yoga experience is necessary. Props and mats provided.
Post-Natal (Mom&Baby) Yoga
Offered in a 6-week session format, this class uses postures for moms and babies (6 weeks to 9 months) in addition to baby massage in order to stretch, tone, and restore muscle strength. In addition to facilitating a deeper the bond with your baby, this class allows you the time to relax and "mother yourself" through the use of breathing techniques that rejuvenate the mind and body. While enjoying the mental and physical health benefits of your practice, you may also find that this class is a fantastic and fun way to meet other moms and babies in the community. Upon registering for the session, a permission note from your healthcare provider is required and should be brought to the 1st class. No prior yoga experience is necessary. Props and mats provided. Moms should bring a pouch-type baby carrier to class
Candlelight Yoga
Experience the meditative focus and intensity of practicing yoga in a studio uniquely illuminated by candlelight. Enjoy the soothing music and soft glow of candles and allow the tension of everyday life to slip away. A perfect way to end your day. This is a mixed level class.
Restorative Yoga
Candlelit Restorative Monthly Workshop with Karen Tasto January 13th 7-8:30
Join us for this winter's night candlelit practice designed to help you turn inward while nourishing your essence and exploring your deepest heart's desires. Practice will begin with gentle movements for warming and then move into deliciously supported held poses for replenishing and relaxing. This quiet, healing, and meditative workshop will give you clarity, energy, and focus for your week ahead. don't miss out on this indulgent time for yourself! Suitable for all levels.
Kids Yoga/Teen Yoga
Kids Yoga is a fun approach to yoga that is very beneficial for children whose bodies are still developing. The use of animated poses and stretching exercises promotes strength, flexibility, coordination, and body awareness. Breathing and visualization techniques teach kids how to focus, relax and develop self-control. In addition to helping kids release pent-up energy in a fun, safe environment, yoga also stimulates children's creative imaginations.
Our Kids Yoga program also promotes inner-strength, confidence, and self-esteem; a feeling of well-being and respect for others; and, love for one's self, inside and out.
Come Play Yoga!
Offered in a 6 weeek session for $78. Next session starts 1/24/13