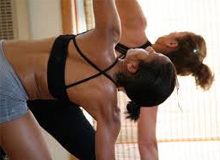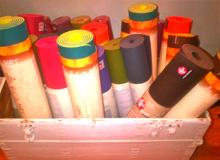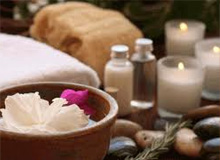 Welcome To Yin Yang Yoga & Wellness Workshops and Sessions !
Candlelit Restorative Monthly Workshop with Karen Tasto
Sunday March 17th 7-8:30
Join us for this candlelit practice designed this month to soothe mind, body, spirit while planting your own seeds for transformation as we transition to springtime. Practice will begin with gentle movements for warming and then move into deliciously supported held poses for replenishing and relaxing. This quiet, healing, and meditative workshop will give you clarity, energy and focus for your week ahead. Don't miss out on this indulgent time for yourself!
Suitable for all levels.
Register early as space is limited.
Tending the Joints - An Introd
Su
Date:

4/21/2013
From:

1:00 pm - 3:30 pm
Tending the Joints - An Introduction to Yin Yoga with Machelle Lee
Sunday 4/21 1-4pm Cost $25
Yin Yoga utilizes floor poses held for 3-5 minutes each to stimulate ligaments by providing a steady and modest tension or compression to joint tissues. This is particularly important and effective at junctions that are most densely wrapped with connective tissue such as the hips, lower spine, sacrum, SI Joint, and knees. This basic introduction to Yin Yoga theory and its simple repertoire of poses provides self-empowering knowledge of how to effectively stimulate the growth and repair of ligament and replenish synovial fluid in disc spaces in order to preserve joint health and mobility. In this workshop, we will experience the calming effect of the postures while exploring the straightforward modern biochemistry of regenerative tissue research and thus why Yin Yoga is so uniquely therapeutic and rehabilitative to joints.
Machelle Lee, MA, CMT, E-RYT-200
Machelle is a certified and registered yoga instructor, massage therapist and has earned a masters degree in mythology and depth psychology. Since 1991 Machelle has led therapeutic movement and hatha yoga demonstrating the complementary intersection of yoga asana and ancient Five Element Chinese Meridian Theory as a form of self acu-pressure. Machelle weaves modern psychology, biochemistry, and poetry through Yin Yoga and Vinyasa practices in a creative and grounded approach to self-development.

P
Pre-Natal Yoga Series With Julia
Fridays 6-7:15pm
February 22nd-March 28th

$96 or $18 Drop-in

No matter where you are in your pregnancy, positive well-being and physical flexibility are very important. Pre-natal yoga can help you:
Establish a deeper connection with your mind, body, and baby with breathing and relaxation techniques learned each week.
Increase your energy and endurance.
Strengthen and tone muscles used for labor and delivery.
A couple's class is offered each session; providing tips on communication, a birthing plan, and other ways to optimize mom's experience on The Big Day.
No prior yoga experience is necessary. 6 week session $96
Kids Yoga/Teen Yoga
Kids Yoga is a fun approach to yoga that is very beneficial for children whose bodies are still developing. The use of animated poses and stretching exercises promotes strength, flexibility, coordination, and body awareness. Breathing and visualization techniques teach kids how to focus, relax and develop self-control. In addition to helping kids release pent-up energy in a fun, safe environment, yoga also stimulates children's creative imaginations.
Our Kids Yoga program also promotes inner-strength, confidence, and self-esteem; a feeling of well-being and respect for others; and, love for one's self, inside and out.
Come Play Yoga!
Offered in a 6 week session for $78. Next session starts 4/4/13
mp