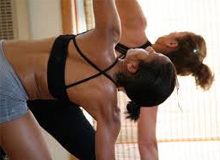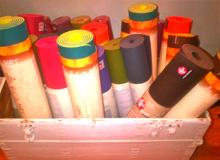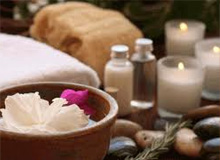 about us
NEW STUDENT SPECIAL! 2 Weeks Unlimited Yoga For Just $30! 1 Month Unlimited Yoga For $49!
At Yin Yang Yoga & Wellness in Sandy Spring, we practice vinyasa flow yoga. Many people are drawn to vinyasa yoga because it offers a challenging physical workout for the whole body. With practice, athletes, advancing yoga students, and complete beginners alike can benefit from our flow style yoga.
Vinyasa or flow yoga is a carefully arranged sequence of poses that flow with the breath. Each pose seamlessly and beautifully flowing into the next, becoming a smooth flowing class that becomes like a dance.
Our classes are practiced in a comfortably warm room (unless otherwise indicated) of around 75 degrees. We offer a wide variety of classes for the beginner to the more advanced student.
Why Warm?
When the body is cold, you contract, and it becomes difficult to move. As muscles and joints warm, they loosen, making them more flexible, allowing you to move deeper into a pose.
"warmth" is also a state of mind, suggestive of the intensity of our efforts during practice, and the resulting invigoration we experience.
Join us to work, push your limits, sweat, relax and enjoy!
Other Classes…
At Yin Yang Yoga we also kids yoga classes, Meditation classes, and Restorative Yoga. Yoga Nidra, Prana Flow Yoga and Vinyasa Flow Yoga are also on our weekly schedule.
Other Services…
At Yin Yang Yoga you can also enjoy Accupuncture by Trish Twiford and Massage. Please also join us for Nutrition and Holistic Healing as well as monthly workshops for all walks of life!
Gentle, Beginner, Mixed Level and Advanced Yoga

Bodyflow, Meditation and Pilates

We are open Saturdays and Sunday
Massage, Acupuncture and Reiki
We offer kids yoga programs
instructors
Alicia Cuervo
Owner of Yin Yang Yoga Center.
Yoga has given me a love and respect for my body that I never thought possible before. A body that so often I abused with alcohol, cigarettes, lack of sleep, and poor eating habits.The unity between mind, body and soul that yoga has given me is the greatest gift that I have ever received.Pure love and gratitude is the result.My first certification is through YogaFit, which has given me a great foundation to build on. After several years of practice and teaching, I found myself craving further training. Drawn to a deeper, organic style of yoga coupled with the ancient health care of Ayurveda, I stumbled upon an amazing teacher named Maria Garre and have recently completed an additional 200 hour training in Shiva Rea's teacher training of fluid power yoga, taught by Maria. The combination of fluid power yoga , aurevedic balancing, ancient chant and vibration all assist with a deeper pranic energy connection in yoga. I am finding true life changing balance, joy and understanding at a very deep level with Shiva's style of yoga.
life is so blessed. I've had the opportunity to study with an amazing group of yoga teachers and experience first hand the healing power of yoga in my personal, professional and athletic life. My goal in life is to share the beauty of yoga, and to give all of us a beautiful, safe place to practice and grow together.
Cynthia Glynn
Cynthia is thrilled to have been embraced by such warm, dedicated and genuine yoginis here at Ying Yang Yoga, and is honoured to begin teaching in this special space. Cynthia is a certified Eclectic Hatha Yoga Teacher and a 200 hour/500 hour graduate of the Yoga Teacher Training Institute in New York, under the tutelage of Swami Ma Mokshapriya Shakti Saraswati, Ph.D. and Marianne Mitsinikos, E-RYT500. Her classes emphasize body awareness, alignment, and the integration of mindfulness in yoga practice and in life... and, above all, playfulness and love of yoga! Cynthia has a performance dance background, has trained as an advanced belt in Traditional Tae Kwon Do under the tutelage of Sabumnim Michael Donohue and Grandmaster Hyun Ok Shin in New York and holds certifications in Reiki and Integrated Energy Therapy®. She loves exploring all styles of physical yoga - namely Vinyasa, Jivamukti, Kundalini, Anusara and Restorative - and the Eastern Physical Arts of Qi Gong and Ta'i Chi Chuan. She has received training in Vinyasa under the grace of Shiva Rea at Kripalu and is planning to complete her next teaching certification in Prana Flow®. Her heart, however, lies in yoga that is "beyond the physical"; in Yogic Philosophy, Japa Mala and Chanting (Mantra, Bhajans, Kirtans). She was blessed to have practiced and traveled all around India - from Rishikesh to Kannyakumari, and from Mumbai to Chennai - in 2010. It was truly a profound, life changing experience to "live" yoga every day in the land of its birth.
Cynthia has been committed to a personal daily practice of Yoga, Japa Mala & Meditation for the past 9 years. She has been an active member of the Long Island Yoga Association, YTTI Alumni and of Yoga Alliance, and is looking forward to becoming an active member of the Maryland Yoga Community and of the Ying Yang Yoga Center in particular. AUM Shanti.
Kirsten Norris
After working several years at various desk jobs, Kirsten transformed her life, found a new purpose, a new direction and she now leads mixed-level vinyasa flow yoga classes in her community. From her own personal yoga practice, Kirsten has experienced great benefit and has observed remarkable change and growth in her mind and body, finding new confidence within herself. She wishes to share these benefits with others. Kirsten trained with YogaFit, and is a registered teacher with Yoga Alliance. In addition, she is Budding Yogis certified and teaches kids and teen yoga. Her classes emphasize movement, breath, and mind-body awareness.
Karen Tasto
I have been teaching yoga since 2003 as the owner of Open Heart Yoga and have been practicing yoga for over 20 years. Yoga has
truly been a blessing in my life through all its ups and downs, and it continues to provide me with endless gifts which I love to share. I received my RYT 200 from The Yoga Center of Columbia and have acquired hundreds of additional training hours in yoga therapy, alignment, breath-work, meditation,and Ayurveda. I am also a Level 2 Reiki Practitioner. My classes emphasize breath, alignment and the mind-body-spirit experience. They are designed so that students gain a new level of self-awareness, healing, and growth while offering tools for living yoga off the mat- all for healthier and more joyful living. I am a mom of three boys and my passions besides yoga include reading and kayaking.

Tanya Proffitt
Tanya began her love affair with fitness and training in the Colorado Rockies while attending The United States Air Force Academy. Years
later in Texas, she became an ACE certified personal trainer and an AFAA Primary Group Instructor.
She has taught multiple variations of land and water aerobics since 1998 and her pertinent certifications include: PIA Pilates Mat 1 and Mat 2, Yogafit Levels 1, 2 and 3, Healthy Moms Pre and Post-Natal, and Specialized Womens Health, Schwinn Indoor Cycle, H2O Fitness, Resist A Ball Levels 1 and 2, and Les Mills Body Combat.
More recently Tanya earned the title of Competitive Triathlete and Half Marathoner. Using her own methods and philosophies, she is self trained and has achieved personal bests including placing first in her age group and third overall in the 2009 Worldgate Super Sprint Triathlon in Reston , Virginia; as well as breaking into the top 10 in the 2010 Iron Girl Triathlon in Columbia, Maryland.
Her Hobbies include cycling, going top the beach,skiing , reading, cooking, being with friends and being outside. She currently resides in Olney, MD with her giant lapdog, and her two beautiful children.

Kristen Garaffo

This summer, I received my 200 Hour Teacher Training at Thrive in Rockville, and am so excited to start a new chapter in my life as a yoga teacher! I stumbled upon Yoga after graduating from college, and soon discovered that my place of peace in my rather stressful life was on the mat. I hope to spread the joy and love of yoga to anyone who is willing to receive it, through a fun, playful, and peaceful practice. My Ukulele may even make an appearance!




Megan Bruce
My name is Megan Bruce and I am 22 years old. I am originally from Phoenix Arizona and have just recently moved to the Baltimore area. I have been in Louisiana for the past 5 years going to school and doing pathology research which has been published in various medical journals. I just finished my undergraduate degree in cellular/molecular biology and chemistry and now plan to pursue my masters in Nutrition and Integrative health. I discovered yoga roughly a year ago when I signed up for it on a whim as an elective. It was an instant love connection so I decided to make yoga a more permanent element of my life by getting my first certification through yogafit. I now teach vinyasa flow, which has been an amazing way to transition my life to incorporate yoga on a daily basis. I had no idea when I signed up for that class what an impact yoga would have on my life. I have always been interested in the connection between mind, body, and soul but lacked the motivation to change my own lifestyle. Yoga has gifted me with a much greater understanding for the importance of recognizing and nourishing all of myself and not just my body. I have been teaching yoga since last August at a few different fitness centers which has provided me the opportunity to work with many different demographics such as sports performance athletes, senior citizens, and children. I am still very green in the world of yoga and have plenty of space for growth and expansion of my knowledge which I am so excited for!
Michael Perfetto
Bio coming soon...
Silga Vasilevska
Yoga is a great source of peace, balance, and joy in my life. I fell in love with yoga from the very first time I took a class some years ago, and I instantly knew I will become a yoga teacher. It was one of those moments when you feel like you have arrived… I have completed the 200 RYT in India where I also deepened my knowledge in pranayama and meditation practices. Having a nursing background, I am very interested in the therapeutic Besides adults, I also teach the little ones. I also hold a black belt in karate and practice astrology.aspect of yoga. My classes are alignment-oriented combined with flow and relaxation.
Taylor Fury
I have always been interested in doing what is best for my mind, body, and spirit, so when I found yoga in the spring of 2010 I fell in love! I found an instructor on my campus that inspired me and after a couple classes, I realized that I wanted to teach yoga to pass on my love for it as my instructor had done for me. I received training through Les Mills and now currently teach a class called Bodyflow to my peers and professors! But college is coming to and end for me and in May 2012, I will graduate with a Liberal Arts Degree in both Sociology and Psychology from Salisbury University. Now it is time for me to find a new yoga family! I am looking forward to getting to know the staff and the students here at Yin Yang Yoga where I hope to bring something new and exciting to the already spirited dynamic! Here we will all grow together becoming better versions of ourselves; after all we are all students first, teachers second. Yoga is not just stretching, balancing, and challenges; when you open your heart and let it in you find peace, energy, calm, achievement, and flow creating an overall feeling of well being. This and more is my dream in inspiring even just one person. Namaste!